Our friend Monica is our Peace Reporter whilst traveling around the world. Yoga Teacher, born in Colombia, she trained as a Hatha Yoga Teacher in Switzerland and took a sabbatical in her studies and work in biology. She now travels to Asia as her first part of this travel. She reports about Peace when it crosses her path and symbolic visions or inspiring pictures.
If you encounter an inspiring situation related to Peace, send us your picture or video.
Monica is on her way to Thailand
GAME: in this picture below, taken in Kathmandou –  Swayambhunath Temple,  find out what tells us all something we need to do.
We promote activism for peace. hari om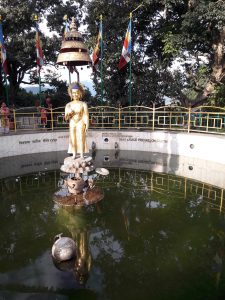 Marrocco: