Start a
300

hrs or

750

hrs Teacher Training Course and change life!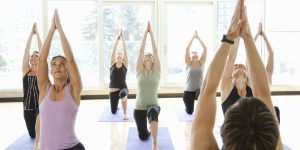 Asanas, Pranayama, Bandhas & Mudras, Anatomy, Physiology, Yoga as therapy, Philosophy, History… all about yoga for teaching to beginners and intermediate levels.
Our courses are supervised by a medical doctor and give you tools to start with pedagogy, teaching technique and practice in a studio or study from home. Know from the start that learning yoga is a life time adventure.
100%YOGA offers programs to help you dive deeply into the study and practice of yoga. At the same time, you maintain your habits for work, family, kids and activities. All teacher training courses are designed for individuals and adapted to your schedules. The entire 100% YOGA of 750 hrs certification can be completed over a period of 9 to 12 months for the initial section and the whole cursus may be completed in three years:
Year 1 to develop your teaching skills & Base   300 hours
Year 2 to study Yoga as therapy   300 hours
Year 3 to deepen the Philosophy & Psychology of Yoga  150 hours
Who is it for? 
Any person with a regular practice of yoga and a strong will to deepen the practice. We do not believe you need to practice a specific posture or be at a certain "level" in order to start teaching. It all comes with time and self study. Disabled people can be great teachers, it doesn't matter if you reach head stand or a vertical standing split. Wanting and sincerity are the starting points. We teach a traditional yoga and go through much more than only asanas even though we love to go into details when it comes to biomechanics, however we love to go into details for many other points and topics like ancient texts and tantra principles…
Method:
Our programme is unique and allows you to study and work from home. Using the best of visio conferencing, you connect with your Teacher on a weekly basis and adjust your learning one-to-one
The content is supervised by our Medical Doctor when it comes to Anatomy, Physiology, Pathology. During workshops, he is with us and you can ask him all questions you want or revise what challenges you on the subject.
You also take part in group classes via the visio conference system (live). We call it VIZYOGA. If you travel to Switzerland or South Africa (Cape Town), once a month you may enjoy one of our workshops.
All our students enjoy the fact of having time to study, integrate and assimilate at their own rhythm.
Final exam has to be completed in our Lausanne or Geneva studio at the end of a workshop. Alternatively in Cape Town studio.
—>  Vizyoga individualized sessions scheduled as per your convenience and teacher's availability
—> Â Unlimited vizyoga group classes or 1 class/week in the studio
—> Â 3 exams (theory, online)
—> Â 1 exam (postures, video live or studio)
—>  1 final exam – 60 min class live teaching (live streaming or studio)
—-> Spring 1-weekend corrective workshop (residential) in Provence, French Riviera or Cape Town, South Africa